Safety and security are always top priorities for solo travelers, particularly single female travelers and moms with young children. There are enough horror stories of luggage, essential papers, purses, and other important personal belongings being lost or stolen while a person is traveling. But there is a solution 5 best women travel vests.
Like everything else, there is no surefire way always to keep all of your essentials secure.
But with a travel vest, you can take protect yourself and your belongings while passing through crowded cities and transit hubs, such as keeping your most prized possessions close to hand. It may not seem the most fashionable choice at first, but ladies, I think we can make it work. To learn about the top women's travel vest, follow me.
The best 5 Travel vest with pockets
Lacking time? Check out our recommended picks below. Or if you prefer, scroll down to discover more about best womans travel vest and how they can save your essentials in hidden pockets.
Therefore I created a list so you can save a lot time in research one of my best travel vests in price and reviews.
SCOTTeVEST Women's RFID Travel Vest
ExOfficio Women's FlyQ Lite Vest
SCOTTeVEST Women's QUEST Travel Vest
Little Donkey Women's World Trekker Vest
Patagonia - Nano-Air Women's Vest
These travel vests are great for airports because you have all your belongings in the pockets of the vest. But be aware if you loud up all pockets the vest can look and feel clumsy.
Get a look into my favorite womens travel vest with hidden pockets.
What to look for in the perfect travel vest?
This buyer's guide offers in-depth reviews of my favorite woman travel vest. My travel vest reviews highlight the most important features to consider including style, function, weight & durability. The goal here is to help YOU find a vest, which is also stylish.
The durability of the material – Better material, longer lasting!

Quick-drying material – You'll probably want this if you're going to be in tropical climates where rain is possible.

Water-resistant – You'll probably want this if you're going to be in tropical climates where rain is possible; stain resistance is great if you're traveling with kids!

Wind-resistant – A travel vest with wind-breaking features will keep you warm with insulation than one without.

The Number of pockets – Consider the number of interior and exterior pockets. Interior pockets definitely provide more security.

Anti-pickpocket features – This feature is probably best if you're going to be traveling in high foot traffic areas like airports, bus stations, train stations. Features could be hidden pockets and RFID security pockets.

RFID-blocking technology – It's not just pickpockets that are the issue in travel crime, today more established thieves can swipe our data from our bank cards and the like. RFID travel products prevent these scams from happening. 

Comfort, movability, and breathability – Are you going to be doing activities like hiking or jogging in your travel vest? If so, look for a travel vest that allows breathability & keep you warm
BEST 5 – TRAVEL VEST FOR WOMEN 
Best over all travel vest
1. SCOTTeVEST RFID Travel Vest woman
The ScottEvest creation is absolutely superb and extremely high quality. The brand is specialized in travel clothing. You can imagine to wear it every day and look forward to keep your personal belongings close and safe. Plus with the hidden pockets you won't need to carry a purse. The creators of this product are truly genius. Like all the pockets and for ease of traveling.
Features:
Pocket Count: 18 Pockets including hidden pockets

Material: 100% Polyester fabric

Care Instructions: Machine Washable

Water repellent
Enough security pockets for phone, tablet pocket, glasses pocket, ID's
Lightweight travel vest
I've had trouble with the double zippers
Expensive
SCOTTeVEST RFID

Price: $204
2. ExOfficio Sol Cool FlyQ
The cheaper alternative to the SCOTteVEST vest. This women's travel vest with hidden pockets has special cooling and water-repellent technology, so it is breathable. Great Vest for travelers who are equal parts jetsetter and outdoor enthusiasts.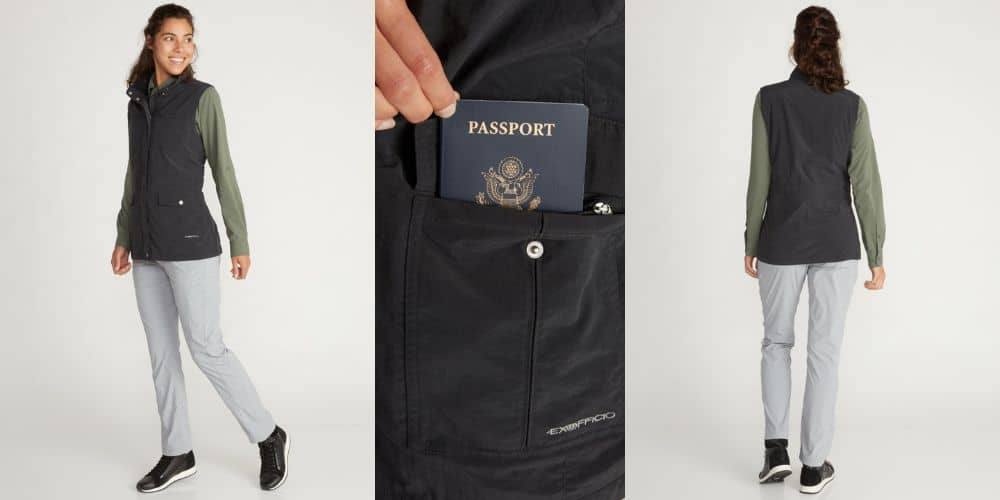 Features:
10 Pockets (2 pockets on the outside, 8 pockets on the inside)

RFID pocket

Water-repellent

Sol Cool technology with UPF 30 fabric

Cinched waist drawstring cord for a more stylish look
Price line
Sol Cool fabric
Maybe not so lightweight as you expect
ExOfficio Sol Cool FlyQ 
Price: $106
3. SCOTTeVEST – QUEST Women's Travel Vest
This Vest was created specifically for the core customers, the Q.U.E.S.T. is the embodiment of design & philosophy. A tribute to functional fashion with no detail left behind! Tech lovers and gadget freaks will have sufficient pockets for all their essentials. It is the ultimate in Geek Chic!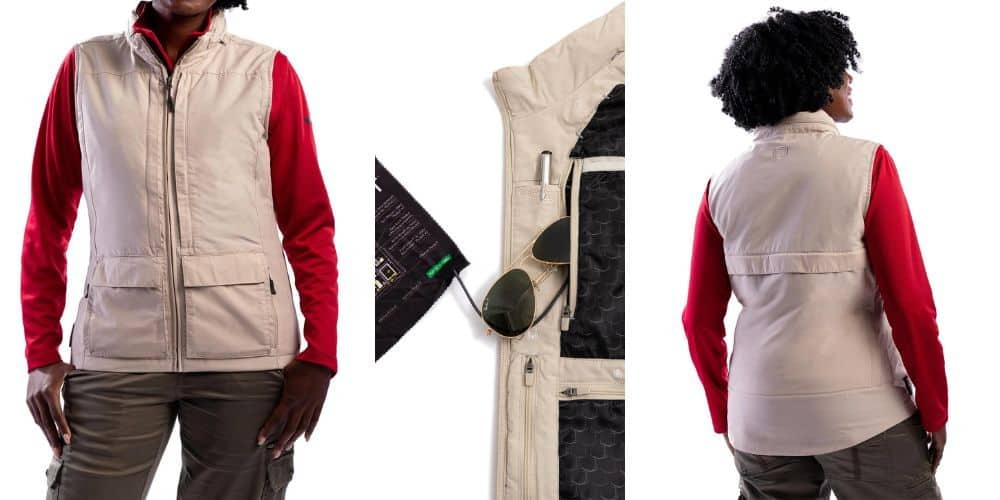 Features:
Pocket Count: 42 Pockets

Material: 65% Cotton, 35% Nylon

Water repellent

Machine washable
Enough security pockets for phone, tablet pocket, glasses pocket, ID's
Versatile
Expensive
SCOTTeVEST – QUEST
Price: $224
4. Little Donkey Lightweight Softshell Travel vest
With enough pockets and casual design, the Little Donkey Vest for women is a great option when you're traveling, commuting, or adventuring through mild weather.
If you're looking for a lightweight, high-quality yet affordable vest with pockets, the Little Donkey Vest is a great choice. However, if you're looking for more security, I recommend the SCOTTeVEST women's travel vest.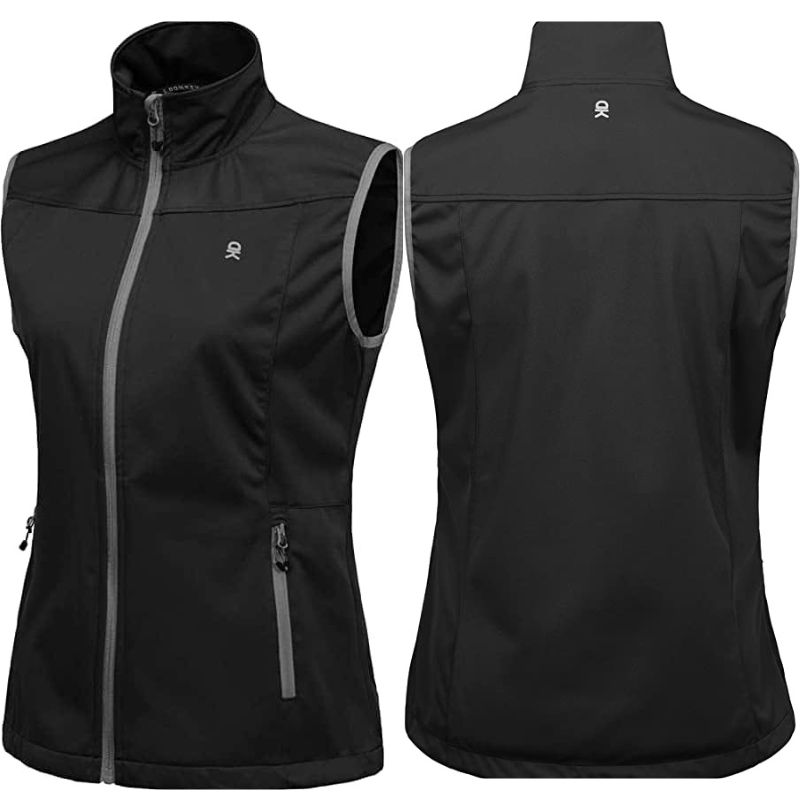 Features:
4 Pockets (all exterior, none of them are zippered)

Drawcord-adjustable waist

for cooler temperatures or mild weather
Many different color options Price
 Price
No inside pockets
Little Donkey Vest
Price: $37
5. Patagonia – Nano-Air Women's Vest
This Travel vest from Patagonia fulfills all- from summits to sea, long shifts on a medical floor; it was my everything beyond providing warmth, range of motion, breathable, thermal regulation, and pockets for supplies. All pockets are zippered which is a must have for me. All in all great stylish design.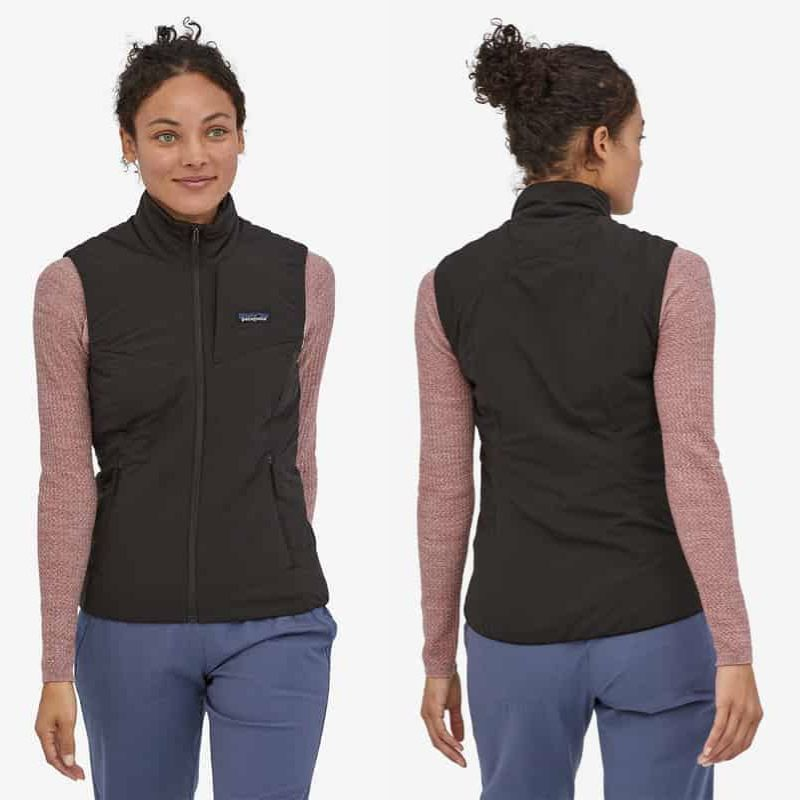 Features:
3 Pockets

Stretchy, Breathable, Weather-Resistant

Lightweight travel vest with 187g
Minimal Design
Lightweight Vest
Responsible Brand
No inside pockets
PATAGONIA – Nano Air Vest
Price: $199
Conclusion
Although everyone's needs are different when it comes to choosing the perfect travel vest from all the travel vests. All the awesome travel vests have one in a common minimum of one secure pocket for your valuables. Now it's your time to choose your own best womens travel vest. I would recommend you start with a cheaper alternative to the SCOTteVEST vest, so you can find out if a vest fits you at all and then you can switch to SCOTteVEST. It's the best out there.
Now your next trip can come.
Check out the best travel vest reviews for the next trip, you can pack it in your bag or wear it.