Find your new favorite backpack in my best travel backpack for women list.
Selecting the right backpack is an overwhelming task. Even more, if you're going to travel for a longer period of time, you need a decent backpack. Here I can help you out. After spending a few years traveling constantly as a digital nomad with just a travel backpack, I know exactly how important a decent travel backpack is. I also know that all travelers are different, so what I deem the best travel backpack won't necessarily suit all women. I have also asked some of my favorite travel bloggers & friends to give me their secret tips for women's backpacks.
To be clear I'm talking about the Standard-sized backpack between 30 – 40 liter they're carry-on sized and can easily travel anywhere in an aircraft. With one exaption the Ospray Fairview is bigger.
Features you NEED from a Travel Backpack
Although everyone's needs are different, when it comes to choosing the perfect backpack for travel from all the travel backpacks, there are a few key features that can make Your life easier. All the awesome travel backpacks for women nail most, if not all, my favorite features…
A pack that opens all the way around
Traditional backpacks like the ones designed for hiking tend to open at the top only, which means you have to unpack everything to reach stuff at the bottom. That's fine on short trips or if you're mostly staying in one place, but if you're going to be packing and unpacking every few days on a long-term backpacking trip it'll drive you crazy. Look for a backpack that unzips all the way around at the front – it'll make life so much easier.

Great organization
With different external pockets, zippered pockets and like the Tropicfeel Backpack or the Cotopaxi backpack with included compression bags.
Plenty of space
Like a Laptop sleeve for a MacBook up to 16 inches. Organization pockets for carry-ons, Water bottle pockets. The best for carry-on backpacks the most are adjustable in size with compression straps
Durable materials
You want a backpack that will go as far as you do, and not suddenly break halfway around the world. I've seen it happen and it's a massive pain! Durability is key in a backpack for long-term travel.
A great fit
The only way to find the right fit for you is to try your backpack on with some weight in it (and look for the features mentioned in the section above.). Make sure the hip belt is comfy and the back system can be adjusted to suit your frame.
Female-specific straps
Since men and women tend to have slightly different body shapes, it's worth looking for a backpack that was designed with the female frame in mind. The best ones have put a lot of thought and research into creating a fit that works best with the female body.
Security features
Like a hidden pocket for Air-Tags or lockable zippers
Let's dig deeper into the best travel backpack for women.
The 5 best women's travel backpacks
For me as a digital nomad, it's important that every travel backpack has features like a padded laptop sleeve, comfortable padded shoulder straps, a rain cover or water-resistant, enough external pockets & a water bottle pocket. Also as a woman, it has to be a fashionable backpack.
Ospray Fairview Carry On for Woman
The Osprey Fairview is a classic woman backpack. With a unique feature, it has a detachable daypack for your daily carry-ons. It's specially designed for women that's why it is also the best hiking backpack. I love the portability and design choices of the pack.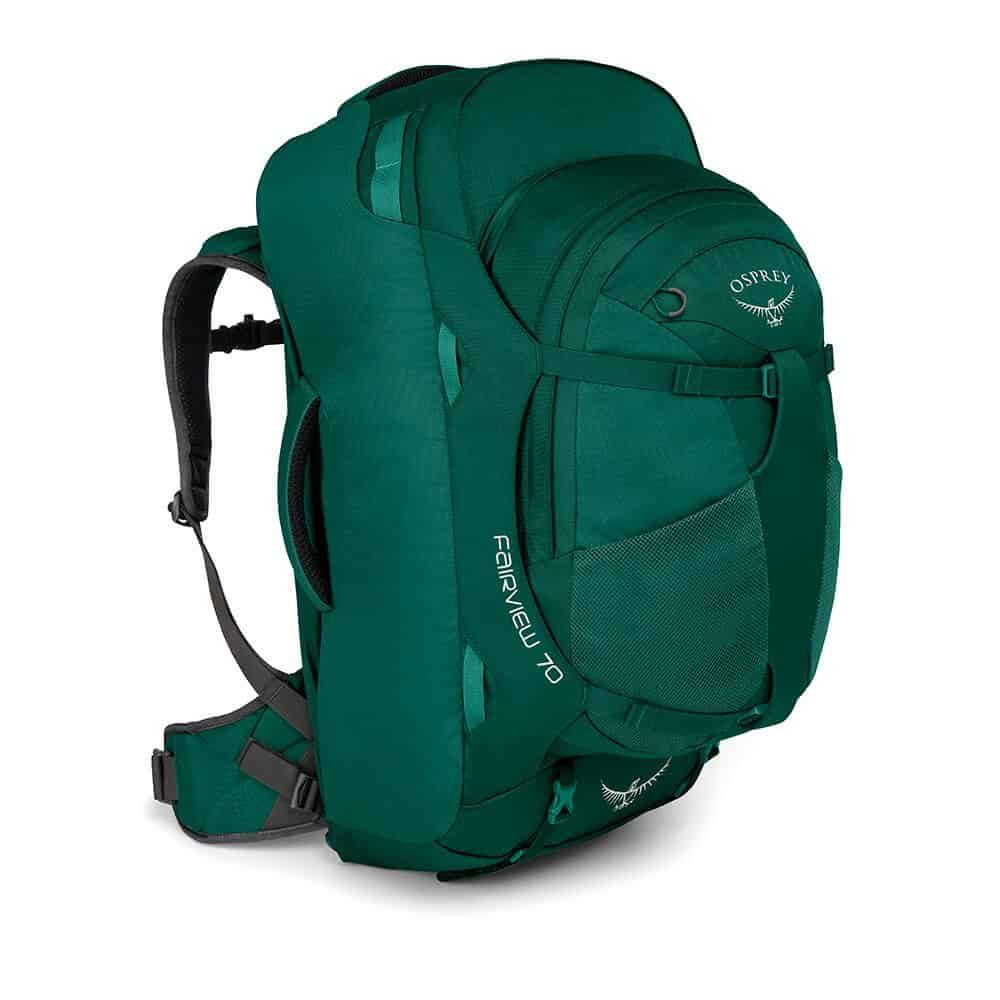 The Fairview is a great women's travel backpack with comfy shoulder straps with you can put away for air travel. It's a front-loading backpack, so it opens similar to a suitcase for easy access to the main compartment. It's pretty lightweight. The 40L is great for carry-on luggage, while the 55L and 70L are good for long-term trips.
The side handle of the bag makes it easy to grab out of an overhead bin and carry off when you air travel. Osprey has its roots in hiking backpack, so you get a travel-specific bag packed with hiking features in the Fairview.
The big downside is if you need the dedicated laptop sleeve, it is in the front. This means your laptop is susceptible to damage and theft, along with throwing the balance of the backpack off to the front. For that reason, if you work remotely or you travel with a laptop, I'd look for another option. But for as a hiking backpack for women, it's one of the best.
Special design for woman

Suspension system

Compression Straps

Removable Daypack

Lightweight
Few pockets for organization
Laptop compartment in the front
2. AER Travel Pack 3 – Black 35L
The carry-on travel backpack that keeps you moving. The Travel Pack 3 is a versatile carry-on backpack designed for traveling smart. It's a unisex backpack and has no design for woman as the Ospray Fairview hiking backpack. The backpack features a streamlined design and smart organization so you can skip the baggage carousel and stay on the go. 
Enough space for all your travel gear. With the suspension system you can use it as a commuter backpack it has a main compartment for all your carry-ons. I would not recommend as a hiking backpack, because of the larger form size of the backpack.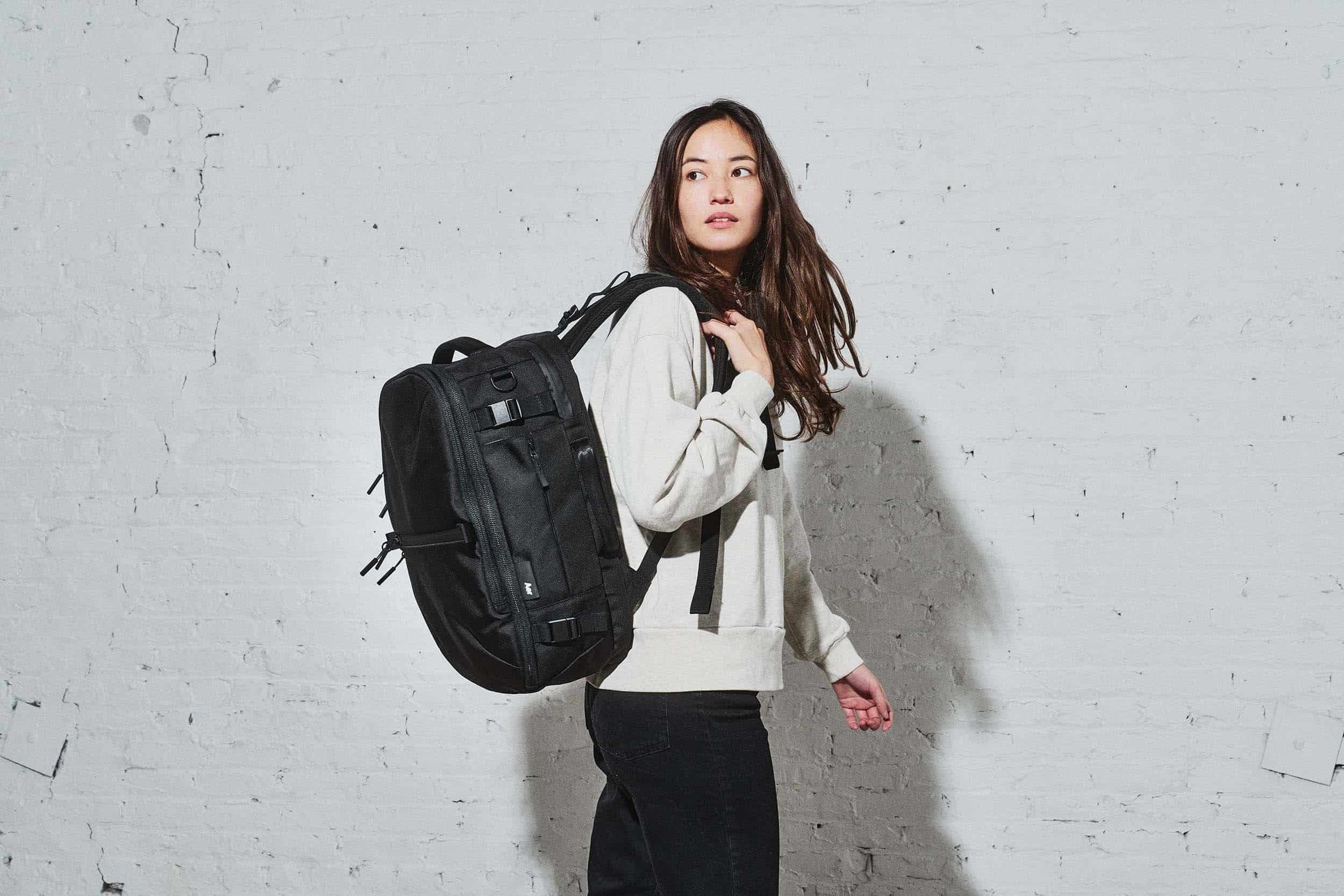 Some feature:
– All-new adjustable shoulder straps for enhanced comfort and an excellent fit of you travel bag
– Improved compression straps for easy access to the main compartment
– Padded laptop pocket with soft lining (fits up to 16″ laptop) best laptop backpack
– Smart organization for your travel essentials
– Removable hip belt (sold separately)
– Hidden smart tracker pocket designed for AirTags or Tile trackers
– Lockable zippers
– Water resistant & durable materials like recycled polyester
For me the AER travel backpack makes it with his minimal design and perfect carry on bag as one of the best backpacks.
✅ 3 Separate compartments rather than just one big main compartment
✅ Huge amount of organization features!
✅ separate padded laptop compartment
✅ Lockable zips
✅ Good array of external pockets for easy access
✅ Tough and durable materials
 Removable hip belt (sold separately)
3. Peak Design Travel Backpack 30L for Woman
If you already know the 45L travel backpack from Peak Design the 30L Backpack is his little brother, well-executed with innovative features. It's a travel bag that's pleasant to use whether you're lugging camera gear, clothes, or a padded laptop sleeve for your digital nomad lifestyle.
It has a compression zipper that allows the Travel Backpack to go from 27 liters to 33 liters. Made out of durable material, a clever harness system, a spacious interior, diverse pockets for the organization—really everything you'd want on a travel backpack. With tons of pockets for organization. I as a woman found enough stuff to fill them. like that the main clamshell is structured
Mesh pockets in the main compartment can be hard to access when full.
Great fit for us women, with the comfortable harness system it has the right bag structure to make a comfortable carry. the Peak Design travel backpack, has optional exterior straps so you can add a ton of exterior storage versatility when you need it.
All in all, great minimal design and enough space to make it one of the best travel backpacks for women
Phenomenal Organization

Laptop sleeve

Carry On Friendly

Minimal design

High Quality, durable materials

Water Bottle Pockets

Hidden Pockets

Stowaway Straps

Carry Handles

Lockable Zippers
Heavy
4. Pacsafe Citysafe CX Anti-Theft Backpack for women 17L
Pacsafe has had the best backpacks in anti-theft sector and that for almost 20 years. The Pacsafe Citysafe is the best-selling women's anti-theft bag. It's a fashionable backpack Ultra-chic, versatile and practical.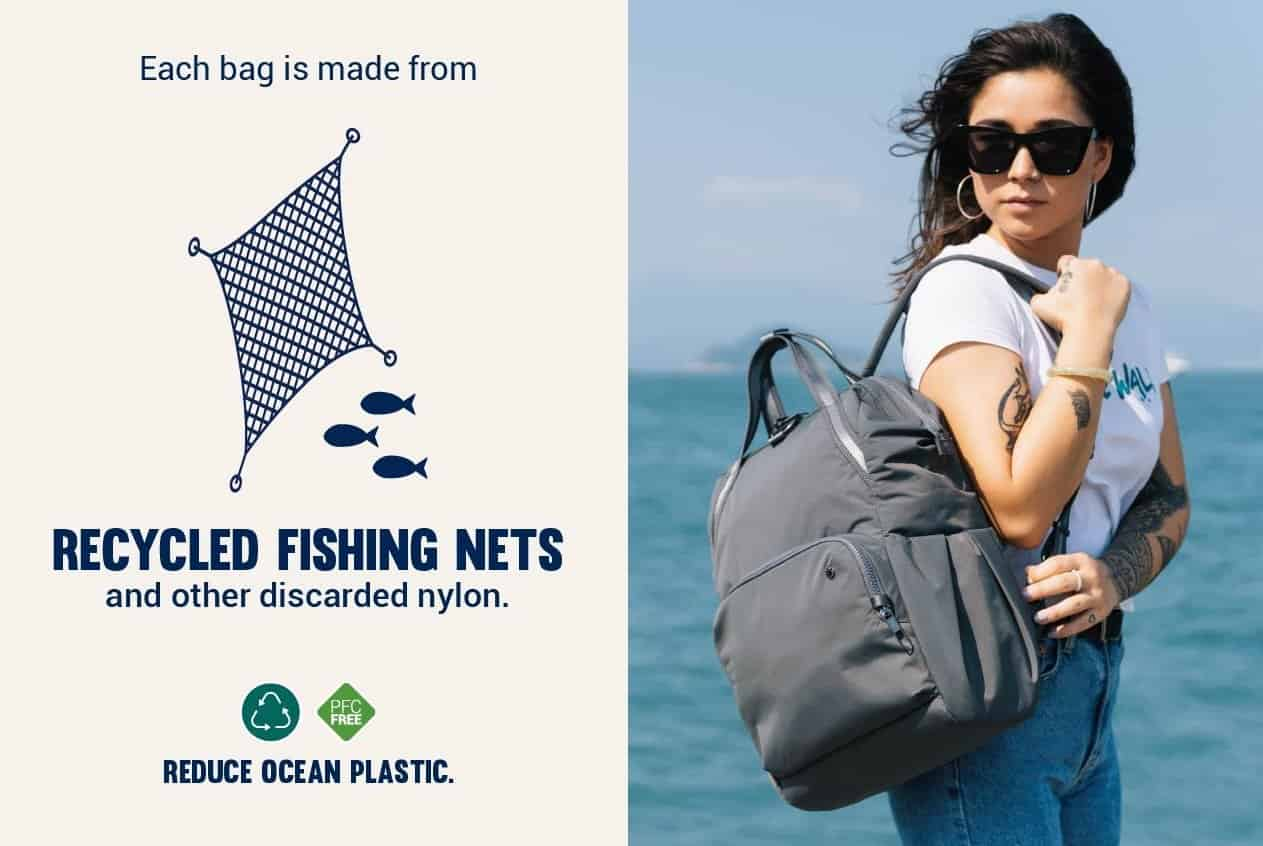 The spacious Citysafe CX 17L Backpack has a laptop compartment for a 16" Macbook Pro laptop, offers smart organization for your things, and protects your valuables with security zippered pockets that blend into the stylish design. The bag is also made with ECONYL fibers which are recycled materials from fishnets.
The style and functionality of this anti-theft backpack are superb and will give you peace of mind – whether on a weekend getaway or traveling the world! It's a great carry on backpack for solo female travelers or women who secure their personal belongings.
This makes the Pacsafe Citysafe a great commuter backpack for a weekend trip.
Comfortable to carry with shoulder straps or haul handles
Side pockets fit range of water bottle sizes
Large zipper pull makes front pocket lock easy to use
Bag frame and shape makes unzipping difficult
Locking mechanisms take some getting used to
Low visibility in main compartment due to shape and pockets
5. The Cotopaxi Allpa Del Día Travel Pack 35L
Most unique backpack in design. Every backpack has his own style because it's made from 100% repurposed fabric and durable materials. This carry on backpack is built for both close-to-home and international adventures, also great as a hiking backpack. This pack is perfectly sized for carry-on convenience, loaded with well-designed features, and tough enough to handle years of use.
The Allpa's low-profile shoulder straps suspension system, contoured shoulder straps, air mesh back panel, adjustable sternum strap, and padded hip belt distribute weight and keep you comfortable through journeys near or far. The bag also features a suitcase-style, full-wrap zipper opening on the main compartment that opens into a large, zippered mesh compartment on the right side and a subdivided zippered mesh compartment on the left. Two zippered pockets round out the top.
The padded laptop sleeve is accessible via the exterior right-side zipper. On the left side, there's a shortcut zipper that provides access to the main internal compartment, without having to take the pack off your back. A subdivided compartment on the top is designed with passports and other small essentials in mind.
As a security measure, all external zippers feature our theft-proof webbing sewn across the openings. A slotted back panel houses the shoulder straps and hip belt, ensuring loose ends are a nonissue in overhead bins, on the bus, or in the trunk of cars. Additionally, four reinforced grab handles provide multiple carry points when the shoulder straps are tucked away. There's even a high-visibility rain cover that stows into the pack.
Stylish with his unique designs
Comfortable backpack straps
Durable materials
Simple & streamlined
Not enough organization in easy access pocket
No obvious place for a wallet or passport
Pocket design is less intuitive
Be aware of the Tropicfeel Shell Backpack for women 40L
They advertise it as the one and only travel backpack you will ever buy. It stands for versatile, trendy, stylish & fashionable, the Tropicfeel Shell is great as a carry-on backpack during travel, or simply as a day bag while you're on a trip makes it a great travel backpack.
The Backpack is made out of recycled materials and it's water resistant. It has hidden hip belt pockets & you can store the shoulder straps and handles away to use either the top handle or the handle found at the side for carry. This versatile bag you can use
from 22L to 40L.
My favorite feature is the inbuilt wardrobe system that helps save up to 20% more space with compression straps. It's like big packing cubes. Remove it from the backpack, pack your things, compress it down, and like magic it fits perfectly inside your Shell backpack. You can use it also for your camera gear.
And that's it. It has one cool feature but the rest of it is standard if not below. It's not made out of durable materials and the design of this travel backpack could be better.
I do not recommend it as best travel backpack, it's waste of money.
Conclusion
I hope this list of the 5 best travel backpack for women helps you to make your choice. Have a great travel experience with your new travel backpack. Stay safe out there